Reduce Machining costs and Downtime with GB Weld Fit Sprockets
Author: Stephen Grattan Date Posted:17 May 2019
---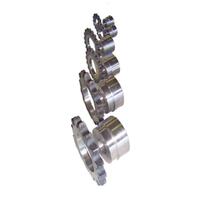 ---
GB Weld Fit Sprockets
GB Power Transmission is pleased to announce we have taken another step toward completing the Sprocket product range with the arrival of the GB Weld Fit Sprockets. The new Weld Fit series Sprockets now joins other quality GB industrial power transmission products including our industrial roller & conveyor chain, couplings, pulleys and standard range of pilot bore and taper fit sprockets.
The new Weld fit product enables users to get fast replacement finish bored products with out the high cost and low availability of skilled machining. Traditionally, sprockets are supplied pilot bore which then have to be bored and keyed at high cost and slow turn around. The easily assembled weld fit design allows you to quickly select sprocket pitch, tooth number and pre-bored hub required which is then completed with a simple welding procedure. Taper bore press fit design ensures plate is installed in line prior to welding. Most end users have access to the equipment required for Weld Fit Sprocket assembly enabling them to get to the finished product quickly and inexpensively. This in turn reduces cost and machine down time and restoring productivity. Weld fit sprockets also have the ability to emergency spares inventory by consolidating standard bore sizes against sprocket pitch.
GB Weld Fit Sprocket come with induction hardened teeth as standard ensuring your new sprocket lasts the distance. They are available to suit a standard range of imperial and metric bore sizes to suit most standard shafts from 3/8 to 1 7/8 inch in imperial and 12 to 45mm in metric. The existing range is available to suit American and British standard transmission chains from ½ inch to 1" pitch covering the bulk of the sprockets used in general transmission across many industries. Many of GB Powers Distributors have stock available off the shelf and distribution opportunities still exist in some other area's.
Please contact GB Power and our distributors for further information on our GB Weld Fit Sprockets and other quality Industrial Power Transmission products, more detailed information is available from our web site at www.gbtrans.com.au
---
Leave a comment